2013 PAL Award Winner for pre-reading skills & top 10 list of books!
Best alphabet book to teach your

c

hild

how to read
AND write the alphabet letters. 
A Rhyme for each Letter!



Are you looking for a fun, simple, and inexpensive way to teach your child the alphabet and letter knowledge?  We're so glad you stopped by!
In Alphabet Anatomy, the letters have come to life based upon their distinct graphic features, and entertain children as they reveal what they do when they're not busy with their main job of making words.



A short humorous rhyme for each letter (both capital and lower case) presents a visual and auditory picture of each letter's sound, shape, and print formation, so learning the alphabet and fundamental letter components is simple, effortless, and fun!  Read more about how Alphabet Anatomy is different here:

what's unique about alphabet anatomy

Meet Letter A!

"A has a point at the top of her head.  Under her belt, she hides apples so red.  A – Apples"
A major difficulty children face in learning the alphabet and learning to read and write is that letters are abstract and there is nothing inherent in the visual symbols that suggests their names or sounds.  By personifying the letters according to their shape and distinctive graphic features, Alphabet Anatomy helps to break down that barrier, plus children gain the multitude of benefits that rhyming provides, including critical thinking and memory skills, phonetic awareness, sound discrimination, and increased

vocabulary.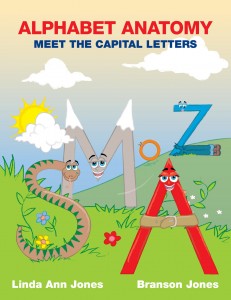 Support local bookstores: Shop Indie
 (All titles also available to the trade through Ingram)
 

The letters had so much fun making

their first video, the Alphabet Anatomy Rap!  
Teaching your child how to write the letters can be especially frustrating, but not with Alphabet Anatomy.  In addition to providing an easy means for visual and auditory recall of each letter's sound and shape, the rhymes uniquely present insight on the handwriting strokes required to correctly form each letter.  For instance, when reciting letter A's rhyme, your child will know to make a point at the top (her head) and another handwriting stroke across the middle (her belt) in order to properly form letter A.  Reading and writing knowledge occur simultaneously and inter-relatedly.



Read some of our

reviews.
Discovering Alphabet Anatomy's letters and exploring their lives presents a vast array of additional early literacy opportunities to engage your child, including relating their own real life experiences to the letters' activities and teaching positive character traits.  See what these letters are up to:

visit some letters.
Letter B invites you to his barbeque!

"B is my buddy.  He's 2 bellies fat, from eating big burgers all day as he sat.  B – Burgers"
With just a little imagination, it's easy to engage in additional early literacy activities and conversations by exploring the letters' lives.  For instance, letter F will even help kids focus on feeling fit and fabulous:

fabulously fit letter F.
Letter C demonstrates compassion as she cares for cats.

"C is a circle that doesn't quite close.  Her right side stays open where cats like to doze.  C – Cats"
Did you know your child's early literacy journey begins at the moment of birth?  That means you can start reciting Alphabet Anatomy's rhymes to infants up to kindergarteners and beyond depending on their level of letter mastery.  Read more about early literacy here:
understanding early literacy.

Buy Meet the Lower Case Letters
Support local bookstores: Shop Indie
  (Or select Combined Book Specials at the bottom left of this page to purchase book packages.)
Designed to accompany "Meet the Capital Letters," our Parent Guide helps you expand alphabet knowledge with your child in a systematic way with discussion topics, craft activities, and kinesthetic movements for each letter, plus additional learning concepts such as colors and shapes. Staying mindful of ways to engage your child in everyday routine activities that easily transform into valuable learning opportunities will help ensure literacy success.  See our first review:

Parent Guide review.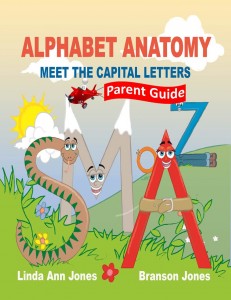 Support local bookstores: Shop Indie
Our first coloring/workbook is now available, so your child can create art masterpieces while continuing to master letter knowledge, practice writing, and increase early literacy skills.

Support local bookstores: Shop Indie
We hope you enjoy meeting Alphabet Anatomy's letters and unlocking the mystery behind their shapes.  Teach your child the alphabet and all about the letters in an easy, fun, and masterful way!
 The alphabet letters are loveable teachers
When they come to life based on their special features
Full letter knowledge in one simple rhyme
So come meet the letters and save lots of time.
Thank you for visiting with us!