2013 PAL Award Winner for pre-reading skills & top 10 list of books!
Best alphabet book to teach your

c

hild

how to read
AND write the alphabet letters. 
A Rhyme for each Letter!

Are you looking for a fun and enjoyable way to teach your child the alphabet?  We're so glad you stopped by!
The loveable alphabet letters brought to life according to their shape, so children make sense of the letters and more easily grasp their fundamental components.  Teach your child the alphabet with fun rhyming verses that are easily memorized so your child learns each letter's shape, sound, and print formation – all at once.

Click the link below for a great SALE price today – just $7.30 (plus s&h)!
http://www.amazon.com/Alphabet-Anatomy-Meet-Capital-Letters

A major difficulty children face in learning the alphabet and learning to read is that letters are abstract and there is nothing inherent in the visual symbols that suggest their names or sounds.  Problem solved!  Alphabet Anatomy breaks down that barrier, plus children gain the additional benefits that rhyming provides.
Meet Letter A!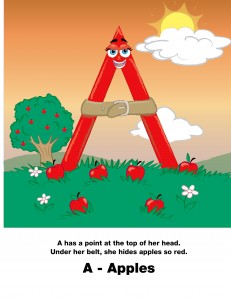 "A has a point at the top of her head.  Under her belt, she hides apples so red.  A – Apples" 


Alphabet Anatomy equips children with visual and auditory recall of the alphabet letters, including how to write them, so reading and writing knowledge occur simultaneously and inter-relatedly.  A book on how to write the alphabet letters as well as read them.  Teaching your child the alphabet has never been easier!
Letter B invites you to his barbeque!

"B is my buddy.  He's 2 bellies fat, from eating big burgers all day as he sat.  B – Burgers"
This unique method is different from other alphabet books that use various themes to introduce letters.  In Alphabet Anatomy, the letters do the teaching as they invite children to explore their lives and discover what they do when they're not busy making words. 
Appearing in their first video, the Alphabet Anatomy Rap!
AlphabetAnatomy
Letter C loves when cats come to visit!

"C is a circle that doesn't quite close.  Her right side stays open where cats like to doze.  C – Cats"
Designed to accompany "Meet the Capital Letters," our Parent Guide helps you expand alphabet knowledge with your child in a systematic way with discussion topics, craft activities, and kinesthetic movements for each letter, plus additional learning concepts such as colors and shapes.  Staying mindful of ways to engage your child in everyday routine activities that easily transform into valuable learning opportunities will help ensure literacy success.  alphabet-anatomy-parent-guide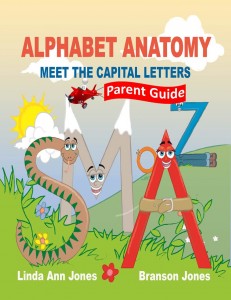 Now available, "Meet the Capital Letters Coloring & Workbook," so your child can create art masterpieces while continuing to master alphabet knowledge and increase early literacy skills.

We hope you enjoy meeting Alphabet Anatomy's letters and learning more about their lives.  Teach your child the alphabet in an easy, fun, and masterful way!
Stay tuned for information on more titles in the Alphabet Anatomy series, coming soon, including "Meet the Lower Case Letters."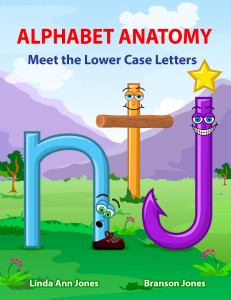 Thank you for visiting with us!