**PAL Award Winner & Top 10 List of Books**
Arizona friends and family, come by the Literacy Fair at Christ Lutheran Greenfield Church, 425 N. Greenfield Road in Gilbert.  Free admission!  Fun family activities plus story times with local authors. Would love to see you there!
Completed all 26 capital letter stories for "Life Behind the Letters" and working on final editing.  Then on to illustrations!  Lots of work still ahead!
One of my dear friends just completed her first year of teaching special ed students.  So proud of her!  Branson and I visited her classroom on and met her adorable students.  They love watching the Alphabet Anatomy Rap and were so excited to tell us about their favorite letters.  We had such a great time!
Yay, we have hard-cover versions of our first two titles and they are beautiful.  Our local library has placed them on their shelf!  Now to get them in more libraries so more kids can experience the easiest way to master the alphabet letters!
Just submitted the files for the hard-cover versions of "Meet the Capital Letters" and "Meet the Lower Case Letters" and am awaiting the review proofs.  Hopefully they'll be on some library shelves very soon!
We hosted a table at "Bump, Baby & Beyond," sponsored by East Valley Moms, to give mommies a fun night out.  Enjoyed meeting lots of Arizona moms!  We made a raffle prize and combined our books with crayons, foam letters, markers, colored paper, writing pads, and play-dough.  It was a big it!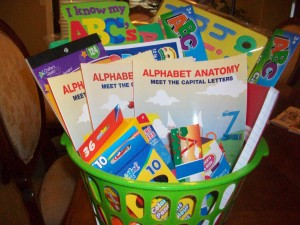 Here's what our display table looked like:
Our books are now available through Ingram and Brodart!  We're so excited to open up new avenues of distribution.
Meet the Lower Case Letters is NOW AVAILABLE.  We can't wait for you to meet them!
Our first coloring/workbook for Meet the Capital Letters is now available on Amazon.  Lots of coloring activity, writing practice, and fun sentences to build reading skills while discovering more about the letters' lives.
We are excited to announce our Parent Guide is now available on Amazon.  Parents play the biggest role in a child's literacy development.  You'll want to know how to optimize those critical years from birth to age 5.  Did you know that 90 percent of a child's brain is developed during this time and over 700 neural connections are formed every second?!
Exciting things are happening!  Alphabet Anatomy named in top ten books by PAL Award Founder Sherry Artimenko. playonwords-top-10-pal-picks
Woke up to happy news this morning that we're featured in "Raising Arizona Kids" magazine.  raisingarizonakids.com/capital-idea
Book reading/signing at Chandler Public Library, Downtown Branch, 22 S. Delaware Street, Chandler, Arizona.
Book reading/signing at Gilbert Southeast Regional Library, 775 N. Greenfield Road, Gilbert, Arizona.
Book reading/signing at Barnes & Noble, San Tan Village Mall, 2150 E. Williams Field Road, Gilbert, Arizona.  We would love to see you there!
We had a sponsored page on howtolearn.com, a top educational website.
Alphabet Anatomy is on display at Book Expo America in New York City, the place to be this weekend!
We just won a PAL Award!!  Read Sherry Artimenko's review:  "A great tool for language learning at the phonological level, Alphabet Anatomy: Meet the Capital Letters provides a unique way for children to build reading and writing skills. Take note preschool teachers, this book would serve as a useful tool to introduce the letter of the week!"  Sherry Artimenko, M.A., C.C.C. – playonwords.com/award/2013
Interview with Examiner.com:  examiner.com/article/author interview
Thank you, Marshal Zeringue, for inviting us to "Coffee With A Canine."  It was lots of fun!  coffeecanine.blogspot.com
Interview on WOCA Radio in Ocala, Florida.  Thanks for inviting me, Larry and Robin!!  Larry's favorite was Letter Q; he loved how the little tale was actually Q's tongue.  Also thanks to both of you for all the wonderful things you said!!
So excited to be participating in the Tucson Festival of Books this weekend at the University of Arizona.  We'll be at The Author's Pavilion from 2:00 – 4:00 p.m.  Why not come down and join the fun?!  tucsonfestivalofbooks.org
We're so happy to be Sponsor of the Month at "Confessions of a Mommyholic."  Check out Janine's super blog at www.janinehuldie.com.
Alphabet Anatomy on The Children's Book Review website.  Interview:  thechildrensbookreview interview  and Book Review:  thechildrensbookreview weblog
Alphabet Anatomy in the Arizona Republic newspaper.   azcentral.com/articles/abcs inspire gilbert author