I had heard the stories before, read about them in the newspaper, cried compassionate tears imagining the unbearable suffering. I would never survive it…, was always my immediate response. NEVER!
He was my firstborn son, a perfect ten pounds and 22 ½" long, who would grow to be 6'4" and tower over his dad and me, with upper arms muscled to almost the size of my thighs. He had white-blond hair that slowly darkened as he grew.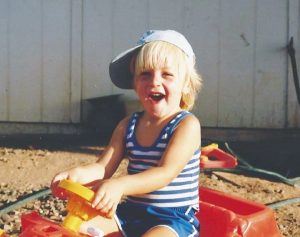 He looked liked a little angel…, truly. He was the most beautiful thing that ever happened to me.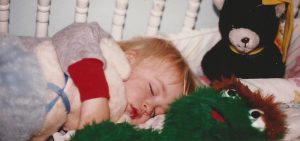 He loved seashells and rocks and dressing up like Scrooge McDuck in the tuxedo jacket he wore as the ring-bearer for his aunt's wedding.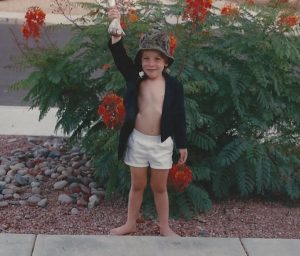 He started saying words at six months old and I bought calendars to document all the funny things he said and did. He was always so smart and advanced for his age. He befriended the unpopular kids at school, the ones who others made fun of. Football was his sport and the world was his canvas, for he was brilliant and gifted beyond measure.
His talents for writing and speaking became evident through college and employment. He possessed such exceptional knowledge way beyond his years that my mom called him a "walking encyclopedia." He could converse on any subject and was especially drawn to ancient history and esoteric topics. Most of all, he had a giant heart to fit his giant frame. Size 15 shoes, and absolutely no one can ever fill them.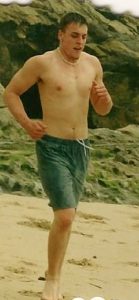 I couldn't possibly conceive that I'd only have him for 28 ½ years… Three more little boy blessings came after him. The years were so busy. I wrote poems to capture the love that was exploding inside my heart for I knew that time was stealing those most exquisite moments of my lifetime way too fast.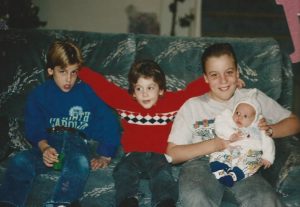 These days I walk three miles each morning at a place fittingly named Discovery Park to figure out how to survive this different reality where everything I used to believe no longer makes sense. But in the heart-wrenching solitude of the last three years, I learned to trust that we could stay connected, because I was certain that love this powerful could soar past the stars to reach him wherever he had gone.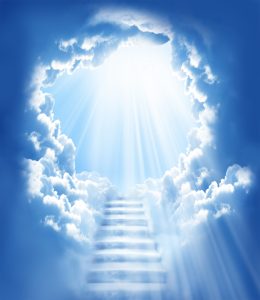 He sent me signs from the very start – a heart-shaped rock propped under the front window; hummingbird encounters; a butterfly that rested on my windshield and looked right at me for a few brief seconds even though my car was traveling 50 miles per hour; and feathers everywhere, the very first one a huge 9 inches long and pure white.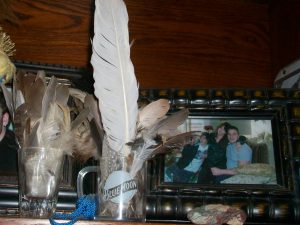 He was my favorite shopping partner and we shared the fun of finding treasures at garage sales and thrift stores. Among other things, he collected sterling silver and unique jewelry, and even crafted his own for a while with striking gemstones and healing crystals. He was excited to take me to Black Minerals Market, his favorite store at the mall, where the vast array of captivating merchandise especially resonated with him. He planted a flower garden for me in the spring of 2012 and we often admired the lovely rose bushes on our trips to Home Depot and Lowe's. He was going to plant those too, but I'm sure he sees colors supremely more glorious now.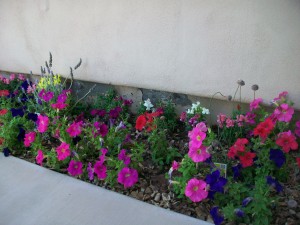 His spaghetti sauce could rival that of any famous chef and he was always willing to host a big family feast. At around eight years old, he made a dream catcher in Cub Scouts. It's draped from the corner of his picture on his special table in the dining room.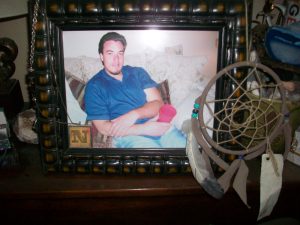 Several months ago, I found another dream catcher in his favorite Rasta colors; it hangs from the ceiling fan in our living room.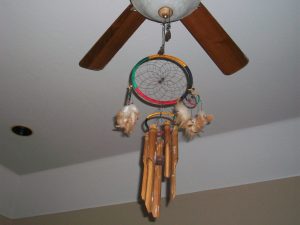 I went to Black Minerals Market again…, and the gigantic, inescapable void – the unwelcome, constant companion – felt like it would crush my soul. I bought him a geode that reminds me of the ocean and the picture of us sitting on the sand together when he was only two years old – when life was like a fairy tale…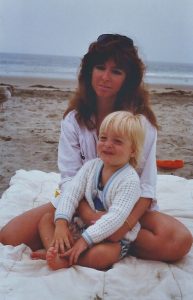 Christmas and the holidays are such an enormous struggle now… I have a new tradition to buy his brothers a special Christmas gift in his memory – this past year a dream catcher, last year a silver lion head. We all need the ferocious courage of lions.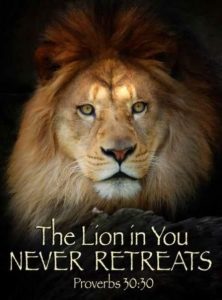 I talk to him a lot on my daily walks at Discovery Park – in audible words and silent, reflective thoughts. I'm convinced he can hear me. Sometimes he responds with the most amazing signs. I'm still a treasure hunter and I swear he is too. Is it crazy to believe that we can still share a favored pastime? Many may say it is. But when your world collapses, a whole new set of possibilities can and will emerge…, if you're willing to see with new eyes.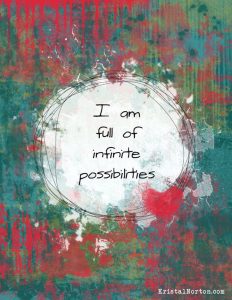 Aside from the park, lately Goodwill is our preferred place. I go there often and this month, January 2017, the synchronicities of my treasure finds are too extreme to discard as mere coincidence.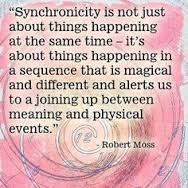 January 4th – I told him about an article I read the day before that Egyptian artifacts were found in the Grand Canyon back in the early 1900's and that some people believe a vast amount of gold is buried there in areas strictly off  limits to tourists. He often spoke about the Great Pyramid and other archeological marvels, and I wondered if he could travel to those extraordinary places now. I said that my dream is to one day explore the universe with him. Treasure Find: While skimming the shirt racks that afternoon, I spotted a tank top with the words, "Never Let Go of Your Dreams," embellished across the top. Below the words a dream catcher and three hanging feathers adorn the front, and the entire back displays symbols of sacred geometry. Okay, I promise…, I will NEVER let go of my dreams.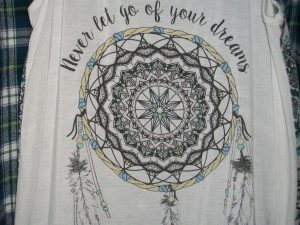 January 7th – I noticed several leaves laying along the park trail that were perfectly heart-shaped and I hoped to find another heart-shaped rock like the one he set aside under the front window almost three years ago. There was no similar rock in sight but he had something better in mind. Treasure Find: Later that day I found a sterling silver ring with a heart at the center in the very shape of the leaves I admired that morning. It's beautiful and will stay on my finger for as long as I breathe.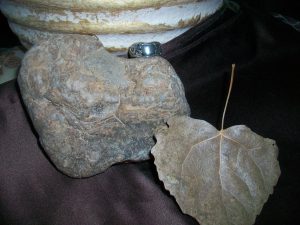 January 8th – I was reminiscing back to what a brilliant writer he was, how he could have made such a difference for so many people, and I just didn't understand why he had to leave us so soon. Treasure Find: On the back wall, among the other art and pictures, perched a 16 x 20 wooden frame with a crème-colored mat surrounding a printed poem. I recognized it instantly, before I read the bottom where it said, "Poetry by Linda A. Jones." I could hardly believe it was there! I picked it up and just stared for several minutes. Then I took a picture of the front and back with my very oldish, un-smart cell phone.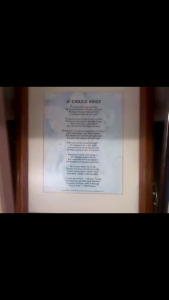 I turned it over and noticed a date, December 1998, and the following inscription: "To Mommy & Daddy from Justin, Lacey & Grammy: Read this often and enjoy every day because before you know it you will be writing something to your grandchildren. Time goes by much too quickly and this is too good to miss for a moment." I almost bought it, but decided another mom might want it. When I went back the next morning to get a better picture, it was gone. (Obviously, my oldie cell phone takes terrible pics.)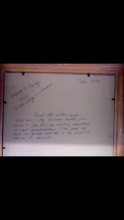 But I realized this sweet lady bought my poem eighteen years ago, framed it, and gave it to her beloved grandchildren's parents as a reminder to treasure every moment…, because time gobbles moments up way too swiftly and indeed they are too wonderful to miss. The best wisdom comes from experience! Her grandchildren are surely young adults now. I can only hope that their mom took heed of the words – because here I am, two decades later, speaking to my precious son in heaven.  Because this earthly life can turn relentlessly cruel at any time and take our babies. And those irreplaceable memories, made from the most inexplicably treasured pieces of our hearts, will become ever more sacred.
Of all my poems that Nathan could have chosen, this one –  "A Child's Voice" – is by far the most ideal. I had told him that morning that his skillful writing would have made a difference. He acknowledged that he heard me, and responded by revealing that my own writing has in fact made a difference (at least for one family), and he knows that's what I hoped for. We had often talked about using our talents to bring good to the world, and his validation is exceptionally meaningful.
More than that, he affirmed that he will always be my child, and I will hear his voice even though I cannot see or touch him, to help me navigate this indescribably painful journey. And I can't help but realize the keenly perceptive words of the last two lines: "Together we have made it through; and all I am – I owe to you." But I also realize those words ring differently now, for life has taken us on a path I never could have imagined enduring, and I need him to make it through. I am so blessed that he knows this.
January 12th – Treasure Find: 3 charms in a gift box with this written inside: "Mom, You're in My Heart." I can't help but think he's confirming my 3 of hearts card.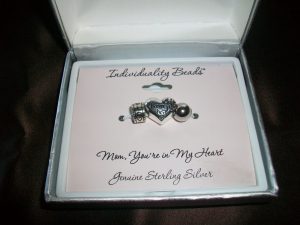 January 12th – Treasure Find: Silver earrings in sea shell shapes with 3 gemstones on each one. He collected seashells as a little boy and 3 is surely our special number. And they make me remember my favorite picture of us on the beach when he was 2 years old – when life was like a fairy tale…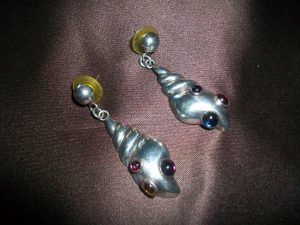 January 16th – Treasure Find: On the trail this morning, another heart-shaped rock!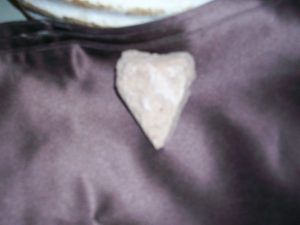 To be his mother is the greatest treasure of all and my greatest joy even still – as he continues to prove, in the most astounding ways, that love truly does survive, through time and space, and lives for all eternity.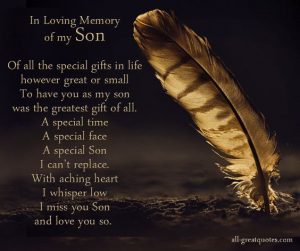 Love you forever, Nathan, with all my heart and soul…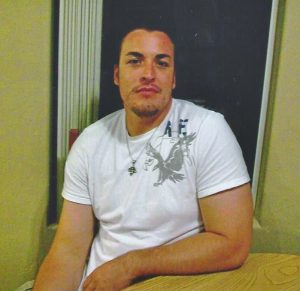 Out of the darkness arises a quiet glimmer — and it shimmers steadfast and softly…