Letter knowledge is defined as a child's ability to recognize all the alphabet letters, preferably in both capital and lower case form, and to know the names and sounds of each. Letter knowledge is one of the best predictors of a child's ability to become a proficient reader.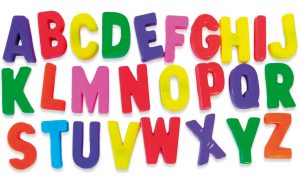 You may have also heard the term, Alphabetic Principle, which is simply the understanding that there are systematic and predictable relationships between written letters and spoken sounds.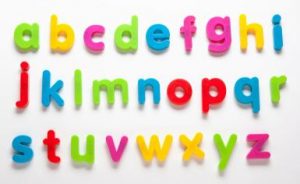 Parents everywhere are being encouraged to facilitate this vital early literacy strategy during their child's preschool years. Equally important, however, is the manner in which this is accomplished. It still holds true that children learn best through play; and boring, repetitive drilling is never recommended.
There's a reason that nursery rhymes are so popular to recite and sing to our precious little ones. Not only do they elicit happy, loving thoughts and feelings, their educational value serves to help babies and toddlers understand and learn about different sounds. Familiarizing children with nursery rhymes and other rhymes in books helps them learn how language words, and enables them to even anticipate rhyming words. Rhyme also teaches children about the patterns and structure of spoken and written language.
So, is there an easy way to both expose your child to the multitude of benefits that rhyme provides and also facilitate letter knowledge? Why, yes there is! Alphabet Anatomy's fun, simple rhymes are easily recited through playful interaction and present children with knowledge about each letter's shape, sound, and the necessary strokes for print formation once they are ready to practice writing the alphabet letters. Recitation of each rhyme serves as an amazing tool for visual and auditory recall of all letter components.
Meet capital letter A!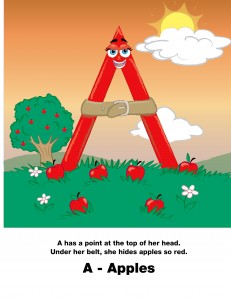 Meet lower case letter a!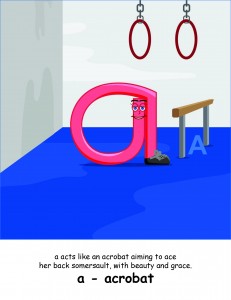 Most children begin recognizing some letters between the ages of 2 and 3. They will most likely enjoy learning the letters of their name first, so don't feel like you have to go in alphabetic order. But, what are you waiting for? Equipping your child with the vital skill of letter recognition has never been easier! Facilitating a solid early literacy foundation is one of the best gifts you can give. And it will provide your child with a big head-start on that very critical skill of proficient reading. In fact, their future depends on it!