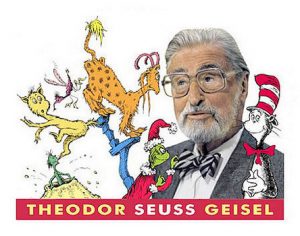 The legendary Theodor Seuss Geisel graced our world on March 2, 1904, in Springfield, Massachusetts, the  son of Theodor Robert Geisel and Henrietta (Seuss) Geisel. 
As he grew, Dr. Seuss credited his mother for his extraordinary ability and desire to create rhymes since she would chant them as a means to sooth her children to sleep.  Maybe that's why he chose his mother's maiden name for his pen name to go on to become one of the most beloved children's authors of all time.  Dr. Seuss gifted us with a total of 48 books that have to date sold well over 200 million copies, been translated into multiple languages, and adapted for various television shows and movies.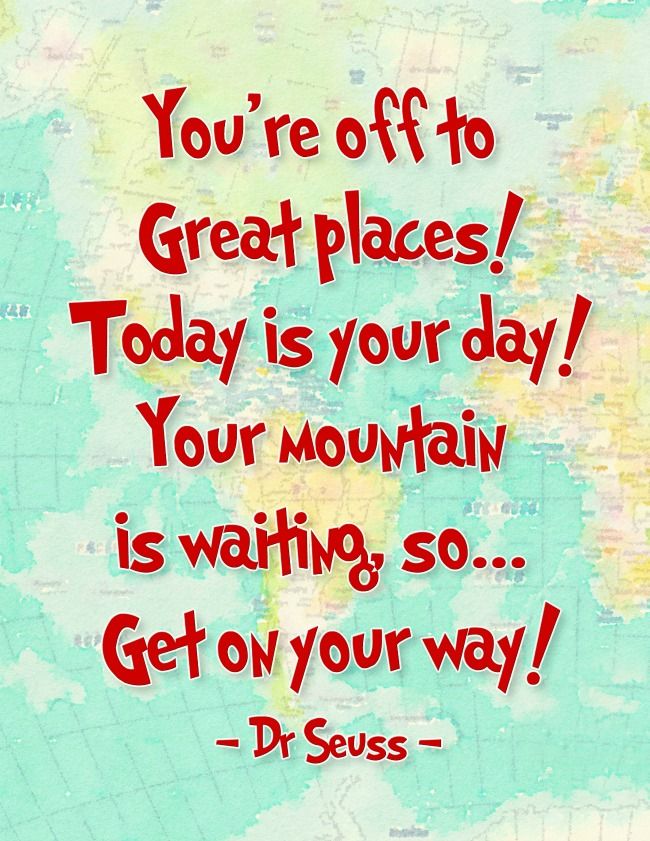 Dr. Seuss began his renowned career as the editor of his school's humor magazine at Dartmouth College and also worked as a cartoonist for several magazines (including Life and Vanity Fair) and in advertising jobs. 
A brilliant writer and artist, he was blessed with the extra special ability to create his own lovable characters to give life to his wacky and ever wonderful words.  His first book, "And to Think that I Saw it on Mulberry Street," was published in 1937.  Like most authors, Dr. Seuss endured many rejections (from over 2 dozen publishers) before finally seeing his work in print.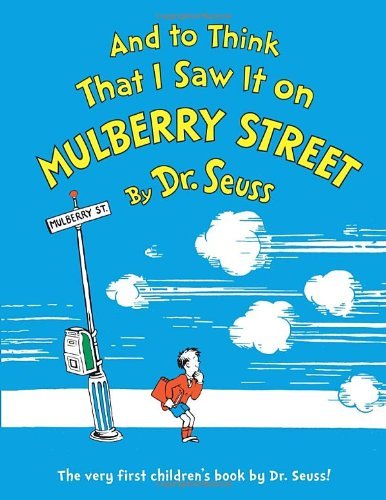 On a personal note, Dr. Seuss married Helen Palmer in 1927 and she is the one who eventually encouraged him to pursue his talents full-time.  Together they purchased an old observation tower in La Jolla, California, where Dr. Seuss continued to develop his creative genius by writing for at least eight hours a day, taking breaks only to tend his garden.  Several well-known titles ensued during this time, including "If I Ran the Zoo" and "Horton Hears a Who."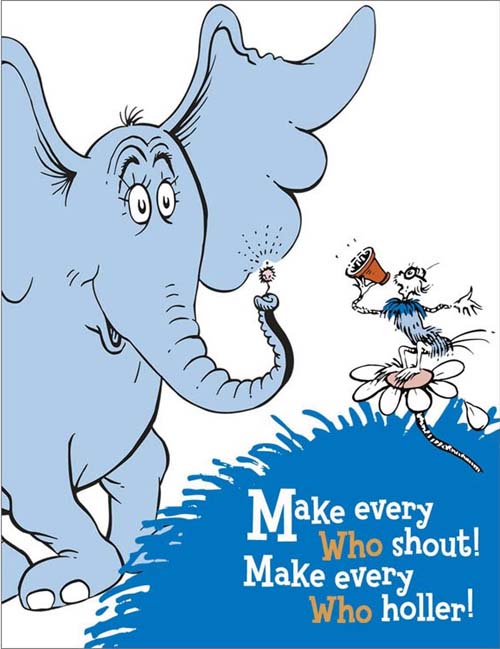 His most famous book, "The Cat in the Hat," was not published until 1957.  Interestingly, Dr. Seuss wrote this masterpiece in response to a request from his publisher for a book that would introduce less than 250 new-reader vocabulary words and serve as an entertaining alternative to the boring school reading primers that were used back then.  Not only did he fulfill that assignment with flying colors, he created a whole original and unique genre that would entertain generations of kids and adults for probably infinity.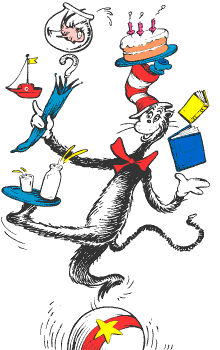 Dr. Seuss was presented with another challenge in 1960 when a co-founder of Random House bet him that he could not write a book using only 50 or fewer distinct words.  "Green Eggs and Ham" was Dr. Seuss' ingenious response.

His silly nonsense rhymes and whimsical illustrations are unmatched in children's literature.  Through the pages of his books, he sought to bring laughter and joy to all those who entered his delightfully fanciful world.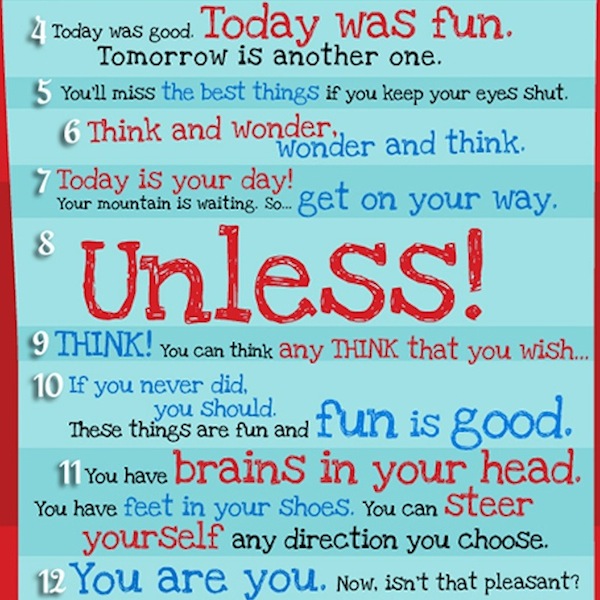 Not only did Dr. Seuss bestow us with treasured stories and indelible characters, I am certain that his matter-of-fact words of wisdom echo in hearts both young and old all across the world.
WORDS TO LIVE BY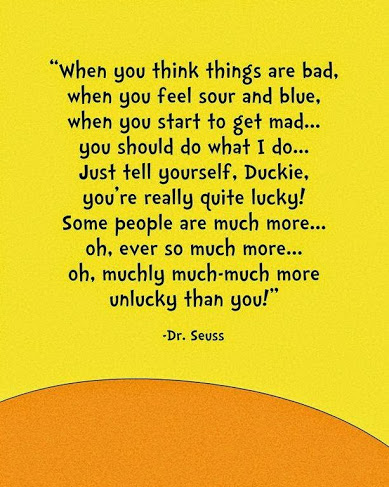 Dr. Seuss did not have children of his own but was quoted as saying, "You have 'em, I'll entertain 'em."  And entertain them he did!  His work also reflected his strong support of children's literacy and reading.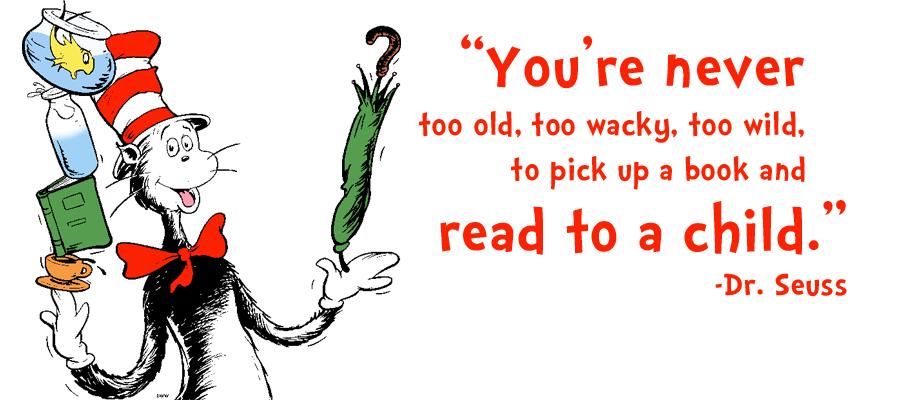 This sweet soul even sought to help us adults in our quest to find love.  Oh, that we would all be so weird like Dr. Seuss!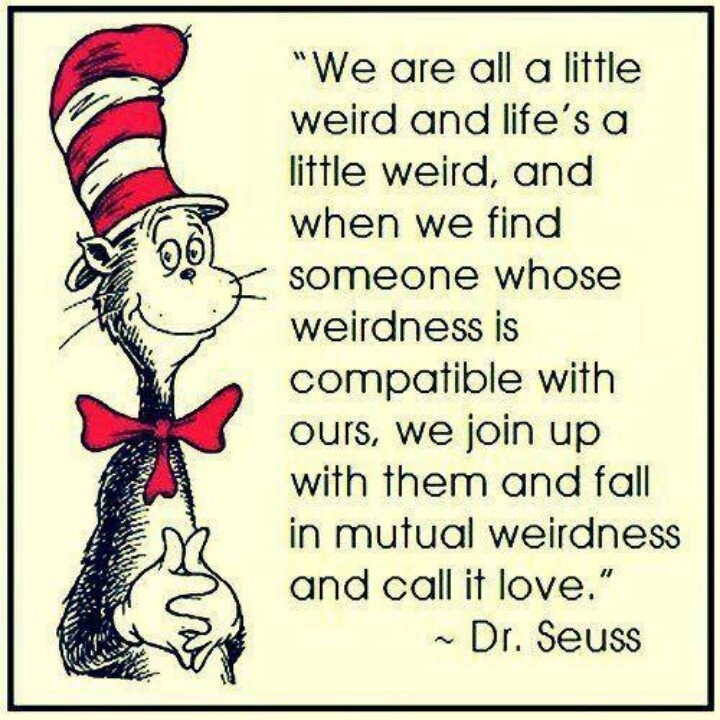 My all-time favorite Dr. Seuss story is "How the Grinch Stole Christmas," and I truly think it makes my heart grow a little too, just like Mr. Grinch, each time I watch it at Christmas.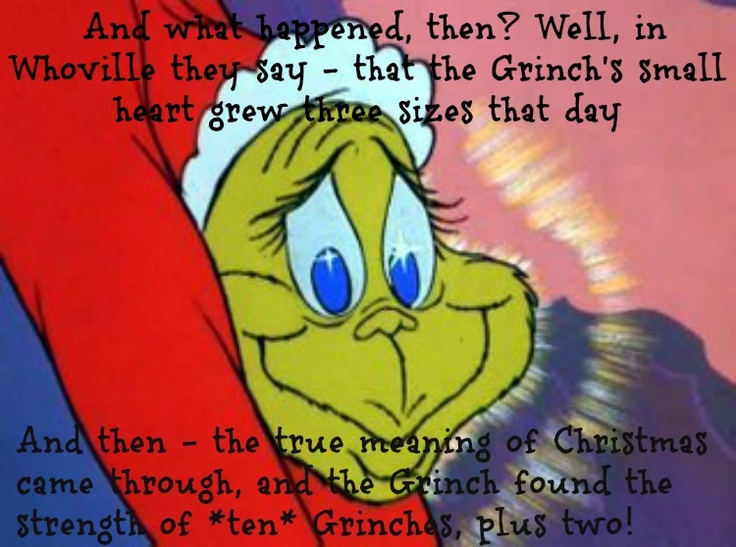 Dr. Seuss left us to travel on to even more amazing places on September 24, 1991, at age 87, but his magical stories will continue to captivate and entertain children everywhere as he lives on forever in our hearts.  And that is the most wondrous feat that any author could hope for.

Dearest Dr. Seuss, there will never be anyone who is you-er than you.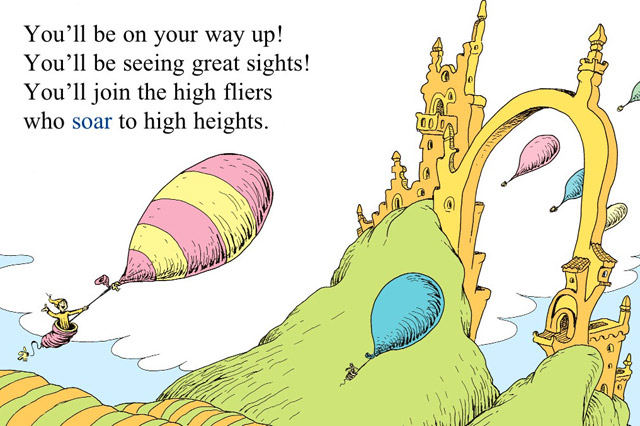 WE LOVE YOU!