Hooray for May!  I bet it's one of Mother Nature's favorite months as she witnesses the magical reawakening of her magnificent inhabitants as they arise and sprout forth from their quiet wintery slumber.
May is the perfect month for long walks and bike rides, so we too can appreciate the breathtaking beauty that's so easy to take for granted.
When is the last time you examined the intricate detail of your favorite flower or admired the cloud art in the endless canvas sky?  Go for it.  Make it a ritual each morning.
Letter M does, with two of his friends, mountain-climbing.  Here's part of his story (coming soon in "Life Behind the Letters").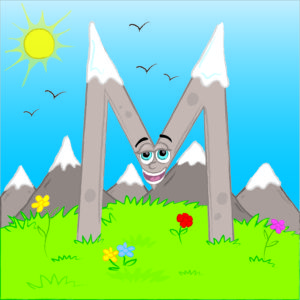 "M is two mountains high with points at  the top
and sliding down M, you might never stop." 
M – Mountains
There is magic in the making
That's the message in the air
Distant mountain tops are calling
And letter "M" will soon be there.
 It's the main ritual each morning
With his miniature moose friend
And a mouse he met at market
That he's responsible to tend.
 Many miles of mountain-climbing
These three have managed to attain
Across the most majestic monuments
On mazes of meshed terrain.
 A million micro-phonic notes
Merge into melodies so merry
Birds bestow their mobile ministry
But they're always in a hurry.
 Mounds of flowers seem to murmur
Muffled welcomes in reply
Modeling colors so magnificent
When the mountaineers pass by.
Copyright Linda A. Jones, Alphabet Anatomy.  All rights reserved.
Happy May!  Happy Spring!