I love to write poetry.  I love words.  I love how words can flow together in a lovely, rhythmic way and stir emotion.  That is the magic of poetry and the power of words.  Not all poetry rhymes, of course, but I've always written in a rhyming fashion because that's just the style that works best for me.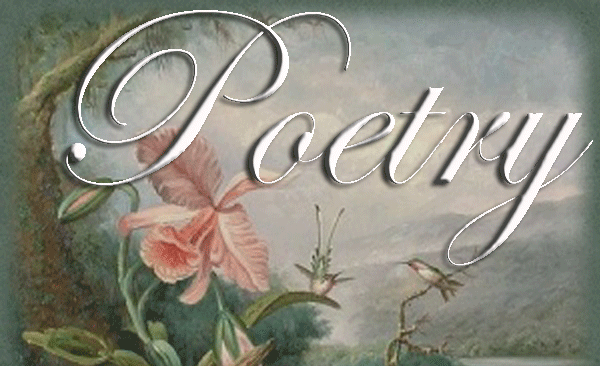 The first poem I wrote was for my grandfather after he died in 1977.  He was such a very special man and losing him was such an incredible loss to our family that I was just moved to put into writing a sort of tribute to him.  I didn't really write much more until the mid 1990's when I started writing some poems about my sons.  You know…, all the mom feelings where your heart just feels like it's going to explode with all the love that's always overflowing…, well almost always.    And you feel so incredibly blessed and lucky to have these precious little people in your care, who have completely changed your life in the most extraordinary ways.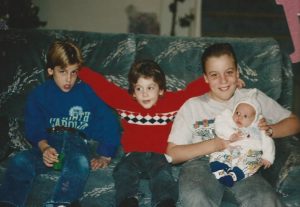 I didn't even realize it back then because it was pretty hectic a lot of times but those were truly the best days of my whole life.  My boys are all big and grown up now,  but I would go back to those days in a heartbeat if I could.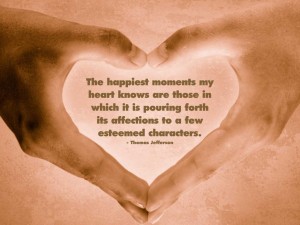 What I would say to young moms who are experiencing all the craziness of little ones running around — trying to stay calm and sane amid all the noise and messiness and chaos — cherish every single moment.  They are truly the best of times; they are fleeting; and they will become the most precious memories in the mere blink of an eye.
A Song in My Heart
I wake up each morning, a song in my heart
Precious children lay sleeping while breakfast I start
What a wonderful day, I'm enjoying some tea —
When the silence is broke, and my children greet me.
At the table I lovingly serve them their meal
What a beautiful family, such closeness we feel
But soon I hear snickering erupting the mood
When I turn 'round again, each has started to brood.
Complaints begin rising, name-calling they toss
I must keep my composure for I am the boss
I kiss them good-bye — out the door with their duel
And secretly whisper — thank goodness for school.
Back in my kitchen, the floor's covered with juice
My toddler is whining the same old excuse
The baby's content throwing food everywhere
While the dog sits by smiling as he gets a share.
As I clean up the mess, I must turn things around
But the day lingers on and no solace is found
We'll play and bake cookies — a good mom I'll be
Oh, no, school's out already — and I'm referee.
After sixty distractions, their homework's complete
They've ransacked each cabinet for something to eat
The t.v. is blaring, new kids at the door
My sanity now may be hard to restore.
With my head cleared a minute, I've dinner to make
But the brawling continues — there's hardly a break
As my husband walks by, I think — was I remiss —
Or could we have known it would turn out like this?
Finally bedtime is here, I announce with delight
Their endeavors to stay up make such a long night
Now it's late and it's quiet as I glance room to room
The house is a wreck — there's a feeling of gloom.
Then I look at my children, so peaceful in bed
And the same loving thoughts always fill up my head
For I know, as they grow, this will all pass away
With their song in my heart, everything is okay.
Copyright Treasured Reflections. Poetry by Linda A. Jones. All rights reserved.

This is my most favorite photo of all.   I had taken the boys to get their pictures taken and the photographer suggested that I get in the pic with them and that they take their shirts and shoes off and just throw them on the floor "like they do at home."  He surely had boys of his own.  I love this so much.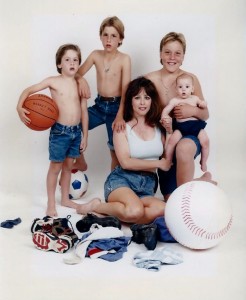 Oh, the housework can surely wait.  Most of those menial tasks can just wait.  Nothing, absolutely nothing, needs your attention more than they do.  Never forget how terribly fleeting the moments really are.

A Child's Voice
I'm only little once, he'd say
So please take time to come and play
My time with you is always best
I'd pick you over all the rest.
Please teach me things I need to know
There's much to learn each day I grow
A lot I don't yet understand
For me, it's all a strange new land.
Sometimes I'm scared, sometimes I'm brave
And sometimes I just don't behave
But please don't yell or get real mad
You see, that makes me really sad.
I like your arms around me tight —
To reassure me in the night
This world can be so big and cold
So that's why you have me to hold.
Someday I really want to be —
All that you expect of me
For now I need time to explore
I'm always learning more and more.
No matter what I do or say
Please love me each and every day
I think that's what I mostly need
And then, I think, I can succeed.
I'll make you proud — real big I'll grow
And then you can look back and know
Together we have made it through
And all I am — I owe to you.
Copyright Treasured Reflections. Poetry by Linda A. Jones. All Rights Reserved.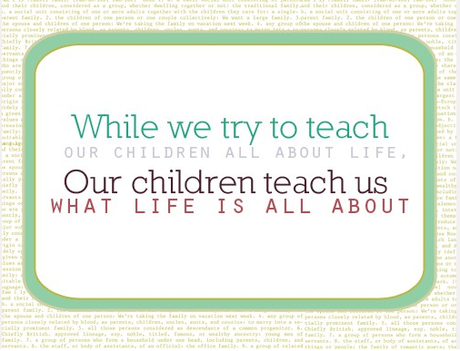 This was right before Branson and I got on the airplane to go to New York for 10 days.  I was so upset to leave the other three that I cried during the entire plane ride (5+ hours).  My contacts got so blurry that I was lucky to read the signs pointing to the right terminal on our layover, or who knows where we could have ended up.  Such a big mess of emotions we moms are!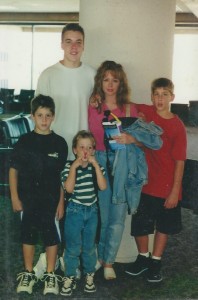 It seems like just yesterday here in my arms —
I held you and marveled at all of your charms…