Our Featured Letters
Each of  the letters is so excited to introduce themselves to you.  They love to take the limelight by sharing more about themselves and what they like to do when they're not busy making words.  They'll reveal more about their lives in our next book, "Life Behind the Letters," which will reinforce letter sounds, emphasize lots of new words to build vocabulary, and serve as a resourceful tool for writing skills.
Letter D digs his daily diving routine and practices diligently.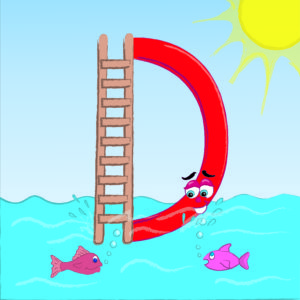 Each day after dusk, his attention is directed to his dandy dark-spotted dalmatian, for whom he has developed a deep-rooted and everlasting affection. Together they delight in a delicious dinner and dabble in different daring activities.  Delectable desserts are definitely letter D's downfall and he can devour a whole deep-dish apple pie all before the next day's dawn.  Luckily, his demanding and diverse duties outweigh any defeat he might otherwise experience from digesting such delicacies.  Overall, he remains determined to reach his destiny of establishing himself as the world's most dynamic diver ever!
Is there something that you practice diligently and desire to become dynamic at?
Now is a great time to introduce letter N!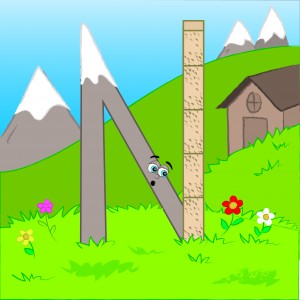 We should all naturally strive to be neighborly, right?  Letter N certainly tries…  However, this notable ninja's network of nimble and nerve-wracking feats oftentimes causes a noisy nuisance.  Never intentionally naughty, he navigates nocturnally to notably neutralize any disturbance.  His no-nonsense approach to nutrition helps to nourish his body and his number one snack is no-fat neopolitan ice-cream with native New England nuts, which he eats all through the night.
How can you be a good neighbor?
Let's meet letter G!  Guess what his favorite activity is…?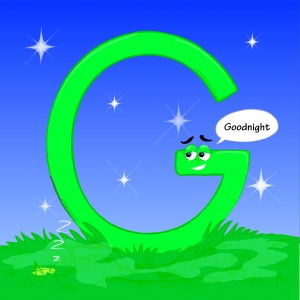 Here's a hint….  What spooky things are you sure to see on Halloween that start with the letter G?  If you guessed ghosts, you are right!  And letter G loves to tell ghost stories.
The glistening night sky is the backdrop for his gripping ghost tales.  His guests are captivated as they gather to hear of the ghouls and goblins he so gallantly conquered in years gone by.  They are spellbound when given a glimpse into the galaxy of gloom where grouchy green trolls gallop on growling grizzly bears grabbing innocent goldfish for grub.  Under the glittery stars and the golden evening moon, the world seems glaringly still.  Amid sleepy groans, he warns the guests to stay on guard, and then he smiles a very wide grin and softly whispers goodnight.
Do you like ghost stories?  What makes you gleeful?
Thanks for visiting with some of our letters.  They are always so happy to meet you!