Meet the Capital Letters
**2013 PAL Award Winner**



Welcome!  You've arrived at the intersection between reading and imagination.  If you have been seeking a fun and easy way to teach your child the alphabet, you've come to the right place!  In Alphabet Anatomy, each letter is accompanied by a special picture and rhyme that tells about its life, shape, and sound — and instructs on how to write the letter.
How it works:
Children learn literacy concepts by exploring the letters' lives and all they do when they're not busy with their main job of making words.  First, children learn the fundamental letter components by memorizing the rhyming verses, which were created by analyzing each letter's structure, or anatomy.  The verses are enhanced by the loveable and engaging illustrations.  In addition to letter recognition, children gain the multitude of other benefits associated with rhyming.
But the learning doesn't stop there.  Our Resource Page provides ideas to extend, enhance, and solidify literacy concepts.  Look for more titles in the future!
What do the letters have to say?
The letters are ecstatic to share the magical wonders of the alphabet.  They gladly bestow upon each child the building blocks for reading words, sentences, and entire books!
When your child can read and write the letters on their own, they'll be able to write words, sentences, and maybe even their own books!  And nothing makes the letters happier than kids learning to read and write!
Okay, here goes, I'm going to introduce you right now.  I've told the letters you're coming and they are so excited to meet you!
Samples:
C is a circle that doesn't quite close.
Her right side stays open where cats like to doze.
C – Cats
---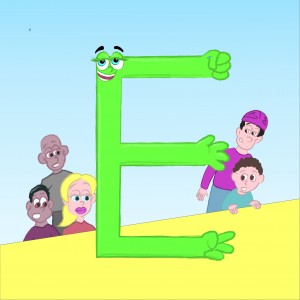 E has three right arms from her top to her toes.
And everyone stares, everywhere she goes.
E – Everyone
---
T stands tall hauling timber on top of his head.
He's building a tree house and painting it red.
T – Timber